Kona Properties
Kailua-Kona Town Areas

Casa De Emdeko 338
Hale Makana O Ke Akua, "House of Gods Gifts". 2 bedroom, 2 bath oceanfront, spectacular Sunset views
Hale Aikáne
Hale Aikáne (House of Hospitality to Family and Friends as one) a beautiful, 3 bedroom, 3 bathroom single level home located in a small private subdivision at a great elevation that receives those cool tropical Hawaiian breezes.
Hale Alaula (SV1105 )
House of Sunset Glow. "Spectacular" describes this newly remodeled first-class suite! Take your highest expectations and raise them. That's what this unit is all about.

Hale Hoku
This unit is finished with mahogany, granite, slate and top accoutrements for your vacationing convenience, one bedroom upscale bungalow located in remodeled oceanfront estate.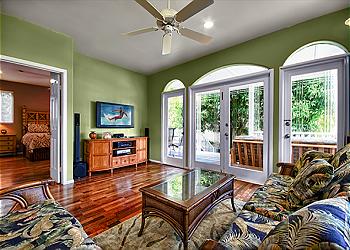 Hale Honu
This 3 bedroom, 2 bath remodeled bungalow is located in an oceanfront estate. The unit is finished with mahogany, granite, slate and top accoutrements for your vacationing convenience.

Hale Kahakai
This upscale property is part of a luxurious oceanfront estate. This two bedroom, two bath unit is finished with mahogany, granite, slate and top accoutrements for your vacationing convenience.

Hale Ko'aniani SV4107
House of Magnificent Views. A 2 bedroom, 2 bath condo featuring million dollar views. This is your dream come true vacation location!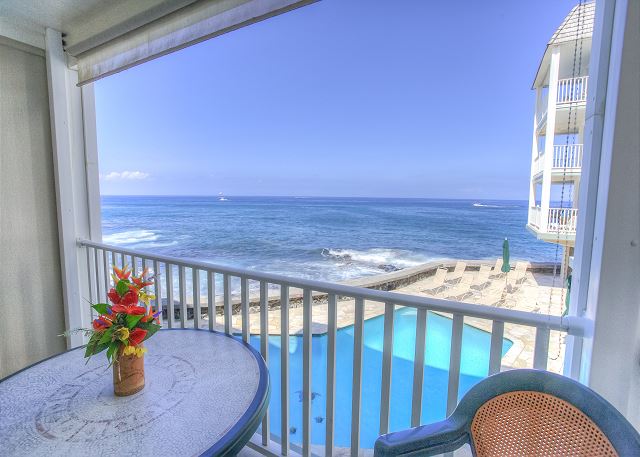 Hale Kona Kai #207
One bedroom, one bathroom oceanfront unit with amazing ocean and sunset views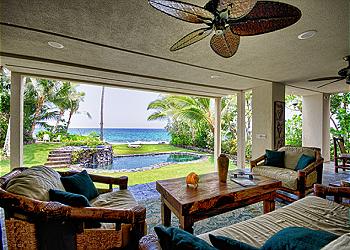 Hale Moana
This Kona oceanfront home away from home lends itself to a relaxing fun vacation on the coast of the Big Island of Hawaii.

Hale Moku
Beautifully remodeled 3 bedroom, 2 bath bungalow. This units is finished with mahogany, granite, slate and top accoutrements for your vacationing convenience.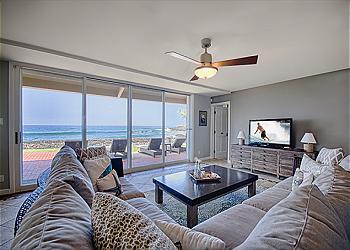 Hale Pua
Hale Pua, Private, 6 Bedroom, 6 Bath, Luxury, Oceanfront Home with Pool & Spa and Spectacular Views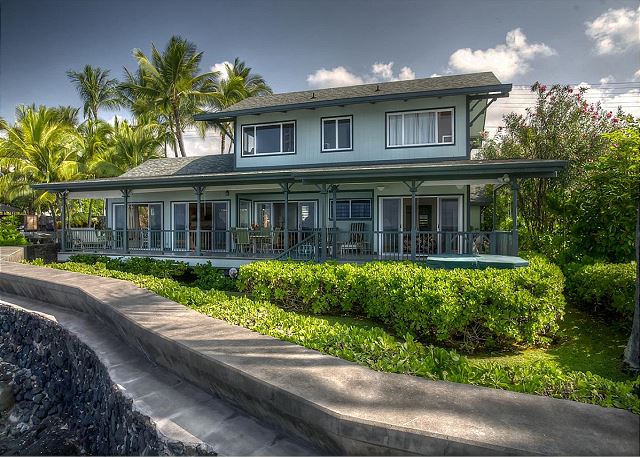 Hoku'Ea Hale
All Rooms open to the ocean to fully enjoy oceanfront living.
Kona Alii 201
Oceanfront Kona Alii unit with AC. Right next to Lava Java in the middle of town.

Kona Alii 304
Located right on picturesque Alii Drive. Directly across the sea wall from the warm Pacific waters.
Kona Alii 504
Absolute Oceanfront. Kona Alii is located right in the middle of the Kona Town.
Kona Alii 512
Large Kona Alii 2 bedroom 3 bath with pool and Ocean-views!

Kona Alii 701
Aloha and Enjoy: 2 bedroom, 2 bath Penthouse with sun deck at Kona Alii. Ocean Front!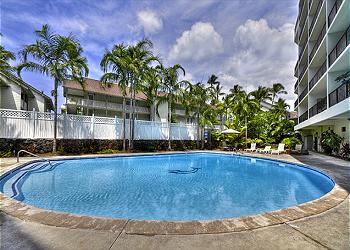 Kona Alii 702
Location Locaton Location. Right in town. 1 bedroom 2 bath with roof lanai access.

Kona Makai 2301
Enjoy this 2 bedroom with a loft at the Kona Makai. This unit is well appointed with everything you might need.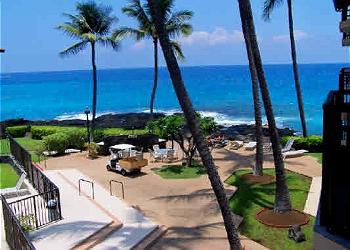 Kona Makai 2303
This beautiful tropical condo with stunning ocean views is on the top floor of this breathtaking ocean front condominium complex.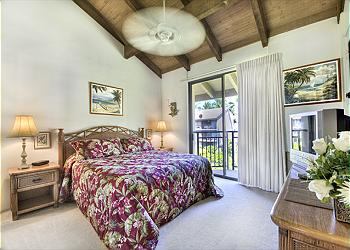 Kona Makai 2304
Great Ocean Front Community at Kona Makai. This 2 bedroom, 2 bath unit affords all the comforts of home with a full kitchen. A well equiped condo. Community has on site pool, tennis, hot tub and ping pong table.

Kona Makai 6101
This is as oceanfront as it can get! Throw you fishing line off your lanai and catch some dinner!

Kona Makai 6305
Kona Makai 1 bedroom with loft in an Ocean Front Community.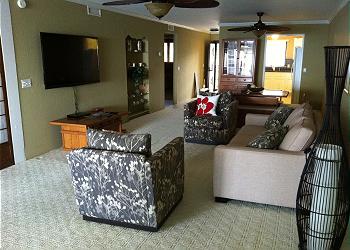 Kona Nalu 204
Beautiful ocean front, 2 bedroom, 2 bath unit with great 300 sq. ft lanai to enjoy amazing ocean views.
Kona Plaza 201
Right down town. Beautifully remodeled 2 bedroom, 2 bath ocean view unit.
South Kona Properties
South Kona & Keauhou Areas

Alii Makai
Beautiful Home. Just minutes from down town Kailua Kona.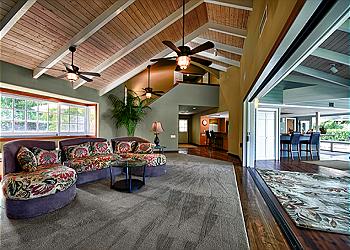 Bay Watch
This home is a Hawaii classic located on a surf/boogey board bay off historic Heeia (H) Bay and Keauhou Bay.

Hale Kalena (Kanaloa)
Hale Kalena (Place of rest). This large 1700 sq foot two bedroom air conditioned condo is so beautiful and peaceful you will not want to leave. Relax amid the tropical gardens of this 16 acre oceanfront complex.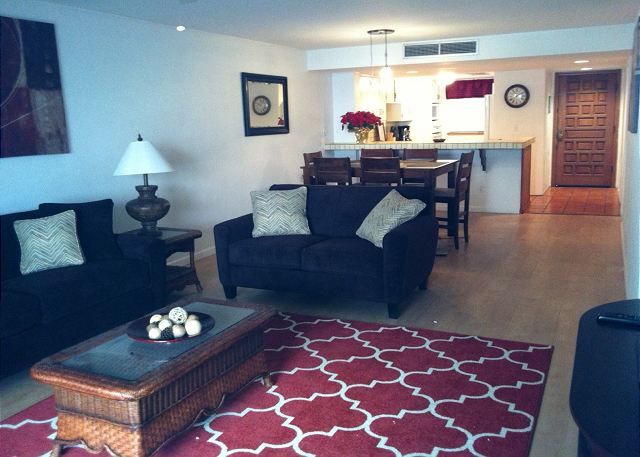 Holualoa Bay Villas #102
Great oceanviews from this 2 bedroom, 2 bath condo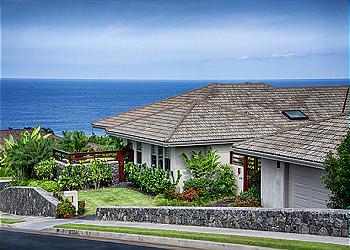 Pili Lani
This lavishly appointed single level home with 3 airconditioned bedroom suites comes with all the modern bells and whistles made just for entertaining.

Surf and Racquet 2101
Surf and Racquet Club offers the discriminating traveler the best of the best. Location is in the heart of the desired Keauhou Resort area. Location, oceanfront. Need we say more?

The Cottage
"The Cottage", Mahina Meli Makai (Oceanside Honey Moon)
North Coast Properties
Airport, Hualalai & Waikoloa Areas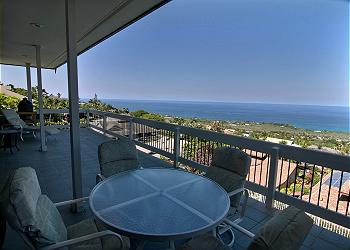 Ho'o Maluhia
Unobstructed oceanviews from this beautiful home right above the town of Kailua Kona.

Holoholo
Million dollar views and wide open spaces from the Place of Pleasure, Fun, and Happiness.

Kona Ohana Hale
A charming 3 bedroom, 2 bath room home with separate 1 bedroom, 1 bath guest quarters

O'oma Plantation
Spectacular custom home with 180 degree great ocean views, infinity pool and much more.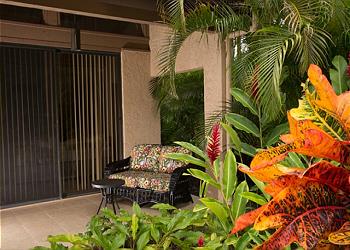 Palekaiko (Paradise)
This quiet beautifully remodeled 2 bedroom condo is the perfect place for an extended stay in Hawaii, close to golf courses and the beautiful South Kohala Coast.

Piko Nani
Piko Nani (Hilltop Beauty) a perfect retreat on a hilltop overlooking an unobstructed Kona Coast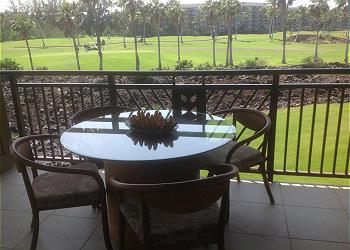 Waikoloa Hali'i Kai 10A
Beautifully decorated spacious two bedroom, two bath ocean and golf course view villa. Receive a 10% discount for all bookings over 7 nights (direct bookings only).

Waikoloa Hali'i Kai 6B
Professionally decorated by Peggy Chesnut this ocean view condo is breathtakingly beautiful. Built on 29 acres, Hali'i Kai ("Spreading out to the Sea" in Hawaiian) has a variety of choice amenities and enjoyments.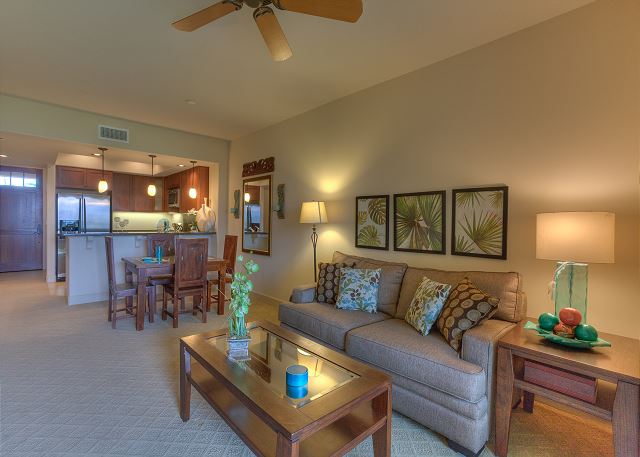 Waikoloa Hali'i Kai 8B
Beautifully decorated 2 bedroom, 2 bathroom villa

Waikoloa Hali'i Kai 9F
If you are looking for elegance which surpasses any other, you need look no further. First class everything provided for your most memorable Hawaiian vacation. The best of the best located here!
Call 1-877-782-5662 for reservations
Welcome to beautiful Hawaii, I bet you wish you were already here!
VACATION RENTAL
It's very exciting you are thinking about your next trip to Hawaii and have chosen us to check out your options. Vacation rental is rapidly growing in popularity. Ample space, entertaining friends, meal and food flexibility, and a better way for families to truly be together in a beautiful home or condo that is far superior to hotels. These are just some of the factors that make vacationers so happy with their choices! At Boundless Hawaii we are going to great lengths to distinguish ourselves from hotels and resorts, and deliver a very unique experience that you can trust. Check out our properties!

PROPERTY MANAGEMENT
If you are interested in a first class property management company, we are here to serve you! We consistently deliver personalized service, and high standards in all areas of our operations. We offer a wide variety of services from property management, to on island property representation, and full service vacation rental management. We offer services including arrival, cleaning, repairs, renter acquisition, lead management, bookings, legal docs, trust fund management, and much more. For a full presentation of our services, check out this PDF

Kona, on the Big Island of Hawaii, offers an amazing array of activities including Sport fishing, Scuba diving, World-class golf, Beautiful beaches, Hiking, Horseback riding, and visiting the meadows of a working ranch. I'm sure you're now really getting excited about your next visit to Hawaii.
See our specials page for special discounts and offers. We always have exciting things going on, and return guests are always treated special! Kona, Hawaii will give you an unforgettable experience, whatever you are looking for. The variety of things to do is almost limitless, and our properties are strategically located up and down the Kona and Kohala coast.
Happily Ever After!
We can make the most important day an unforgettable day! Our wedding planners will find the perfect setting, and home, for your wedding and put it all together!
Our vacation homes, villas, and condominiums are located along the Kohala coast and in and around the picturesque Village of Kona in the breathtaking State of Hawaii, the long-known playground of the Ali'i, (Hawaiian Royalty) - a favorite place for the Kings and Queens of Old Hawaii to come relax far from the rigors of the Royal Court.
Call toll free 877-782-5662 and talk to our reservation agents to find out about availability, possible specials, or discounts. Follow this link for a full listing of our properties.
Take a Break and Do It Now!
We all seem to run at breakneck speed and often don't think enough about the fact that there is more to life. You deserve to take a few days, or even a few weeks, off and relax. What most people don't realize is how close Hawaii is. From most major west coast cities it's only a 5 hour flight to the Big Island of Hawaii!
Messages from our guests:
Kona Makai 2303
A guest from Marietta, Georgia
I would definitely recommend this property. The property management company was excellent as I was sent the wrong code to enter the condo and they promptly [and I mean very promptly] responded to my call and settled the matter immediately. It is a beautiful location.