Almost three and a half months after one of the most legendary volcanic eruptions in the history of Hawaii, the USGS Hawaiian Volcano Observatory (HVO) has now lowered the the alert level from WARNING to WATCH. After 30 billion gallons of fresh lava spread across a small fraction of the Big Island, creating the substantial growth of new land, it seems the activity has finally come to a halt.
According to the HVO, Kilauea Volcano has remained quiet for well over a week, with no collapse events at the summit since August 2nd. Except for a small, crusted-over pond of lava deep inside the fissure 8 cone and a few scattered ocean entries, lava ceased flowing in the LERZ channel on August 6th.
To expand on this good news, sulfur dioxide emission rates at both the summit and LERZ are drastically reduced; the combined rate is actually lower than at any time since late 2007, meaning the air quality and clearness is now better than it has been in the past ten years!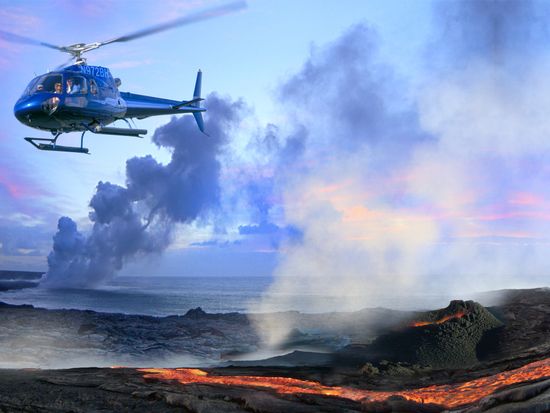 We've said it once, and we'll say it again! Visiting the Big Island of Hawaii and witnessing one of the world's greatest phenomenons is a once in a lifetime opportunity. Tourists have the unique chance of taking helicopter flights over one of mother nature's most rare spectacles and can capture unbelievable sights and footage that can't be found anywhere else. As if the breathtaking views of Kilauea aren't enough, the Big Island is filled with unbelievable attractions and luxuries like iconic waterfalls, colorful beaches, and mouth watering coffee grown on mountain slopes in nutrient rich volcanic soil. What more could you want on a vacation!?
While there are no signs of imminent hazardous activity present at this time, we will continue to update you on any signs of reactivation. If you plan to visit and are interested in staying in a Kona vacation rental, Boundless Hawaii has all the properties to choose from that you can ever hope for. Take a look!